Bakery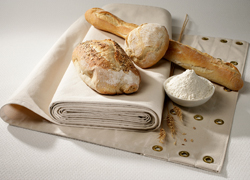 ALTHOFFER manufactures technical textiles for bakery machines since more than 200 years.
We supply our machines parts to OEMs and specialized companies worldwide in order to ensure the proper replacement of original belts and pads.
Regularly ALTHOFFER provides bakers with the details of the retailers and service companies of their region.
Our technical textiles and belts fit as original equipment many new machines worldwide.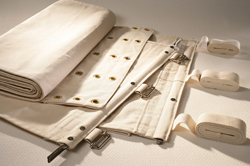 As quality provider, ALTHOFFER offers unstinting tracking for every product. All component as well as all production steps of each single item can be easily tracked, even after 10 years if necessary.
For the replacement of original parts, ALTHOFFER continuously adapts its machine park, its working schedule and the stock of its goods according to customers' demand. We commit ourselves to provide EXW the single products on 24 or 48 H basis.
Quality, precision, punctuality and competiveness are part of our daily duties.
In order to facilitate the communication with our customers we created Contact Forms which represent typical drawings of textile parts. A drawing is worth 10.000 words, so please fill them and return them to us.
All technical textiles of ALTHOFFER are regularly tested at independent and renowned laboratories for instance for food grade accrediting.
The above mentioned data is given for information and is subject to modification without prior advice.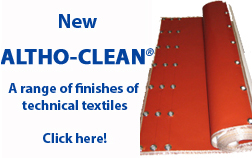 Our full range of technical textiles includes:
Services
General terms of sale